'Rick Perry Suggests Texans Voluntarily Go Without Heat to Fend Off Scourge of Socialism
The former [Texas] governor turned Trump energy secretary thinks people freezing to death should hold off a little longer.
[...]
While all of the state's energy sources share in the blame of the power crisis, proportionally, it's basically all natural gas's fault. "Texas is a gas state," [...] an energy-resources professor at the University of Texas at Austin, told The Texas Tribune. "Gas is failing in the most spectacular fashion right now." ([...] even if Texas did use a higher proportion of wind to run its state, it wouldn't necessarily be wind's fault for the outages. As many have noted, wind turbines operate just fine in Antarctica; Texas was warned to winterize its infrastructure a decade ago in order to be able to churn out electricity in freezing conditions and apparently chose not to.)
Of course, those facts haven't stopped other Texas Republicans from weighing in with their very wrong opinions. "This is what happens when you force the grid to rely in part on wind as a power source," Representative Dan Crenshaw [eyepatch Euron Greyjoy, but with more bigotry] tweeted
[...] "When weather conditions get bad as they did this week, intermittent renewable energy like wind isn't there when you need it." [Right, no wind during storms.]
In another long thread, he wrote, "This raises the obvious question: can we ever rely on renewables to power the grid during extreme weather? No, you need gas or nuclear."' ['
A benefit of geothermal energy is that it is not intermittent like solar and wind power, which means it can be used at any time of the day, any day of the year.' '
Austin was one of the first cities in Texas to use geothermal energy for heating. In fact, even the State Capitol [building] was originally heated by geothermal water.'
'Geothermal energy can be used in areas where the temperature outside is below freezing. You can extract energy easily as the temperature inside the ground nearly remains constant all the year long.'
'Is Texas' Energy Future Geothermal?
[...] the unique geothermal sources deep below the Texas turf are largely untapped.
[...] While enthusiasm in the state's geothermal potential persisted for years, the natural gas glut unleashed by fracking ultimately drowned it out.'
https://blog.firstchoicepower.com/green-power/texas-energy-future-geothermal/#:~:text=It's%20thought%20as%20much%20as,ranges%20above%20212%20%C2%B0F.
And there are these things called batteries....
]
'Then he blamed everything on…California:
[... Crenshaw tweet:] "#1: It's a once in a century weather event. California has constant energy problems and high prices."' [The last time the generators froze in Texas was in 2011. Climate change is probably increasing the severity of the polar vortex, so this will most likely be happening more often....
'Texas failed to learn from 2011 snowstorm, reports suggest'
https://www.statesma...ted/6780847002/
]
'"#2: The reason for blackouts is complex, but in summary: Texas took too many lessons from Cali, over-subsidized renewables, & pushed out baseload energy like natural gas."
[...]
"Texans would be without electricity for longer than three days to keep the federal government out of their business," Perry is quoted as saying. "Try not to let whatever the crisis of the day is take your eye off of having a resilient grid that keeps America safe personally, economically, and strategically."
[...]
"Alexandria Ocasio-Cortez
@AOC
Republicans could trip over their own shoelaces and they'd still find a way to blame me, immigrants, LGBTQ+ people, the Green New Deal, BLM, anything but accept responsibility for their own actions and dealings.
Ineptitude, bigotry, and corruption. Disasters in their own right."'
https://www.vanityfa...as-power-outage
'Dan Crenshaw, the Republican representative for Texas's 2nd congressional district, "liked" an image posted to a neo-Nazi Instagram account [...]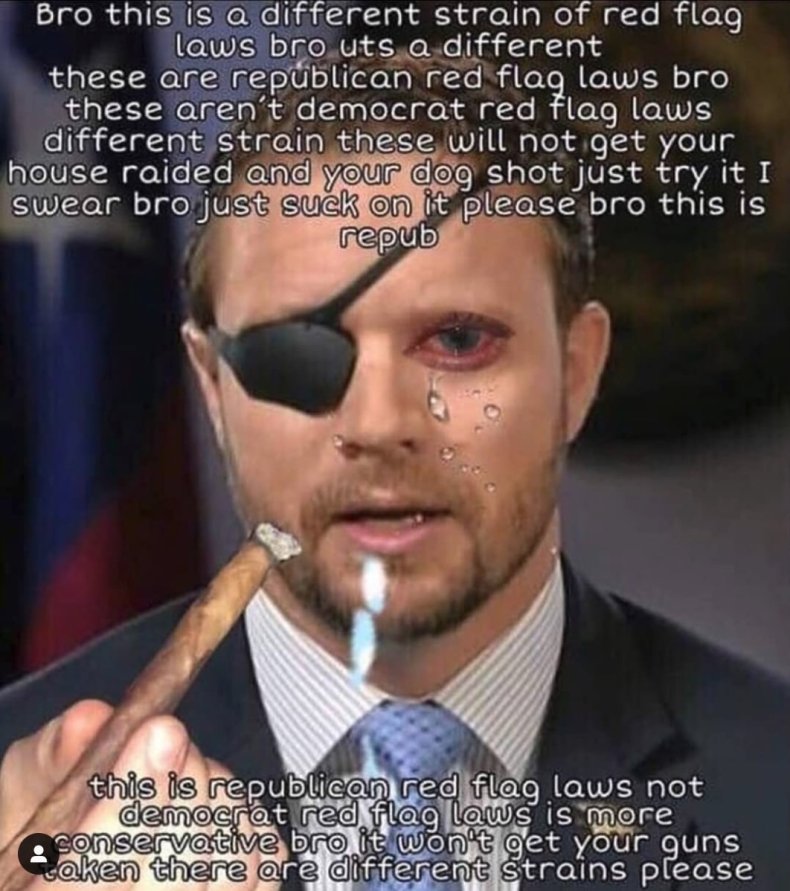 '
https://www.newsweek...eo-nazi-1460066
This post has been edited by Azath Vitr (D'ivers: 18 February 2021 - 06:51 PM