'Militias Find No Antifa Event in PA, Harass Lone Man Instead
Right-wing militias flocked to Gettysburg, Pennsylvania on Saturday in response to online advertising of a fake antifa flag burning event. The event, which was purportedly meant to happen at the Gettysburg National Cemetery, was exposed as an obvious hoax by The Daily Beast, police and other officials last week. Still, hundreds of bikers and militia members arrived armed Saturday to the cemetery and the nearby statue of Confederate Gen. Robert E. Lee. Though they found no antifa event, a biker at the statue shouted that he'd received a phone call about some nefarious activity in the cemetery so the crowd rushed to converge on a single man wearing a Black Lives Matter shirt.
The man told The Washington Post he was a pastor visiting his ancestors' graves. He filmed himself being harassed by the mob, who lobbed homophobic slurs at him, threatened to beat him up, and called Black Lives Matter a terrorist group. Police arrived and encouraged the man to leave the park. "For his own safety, federal law enforcement made the decision to remove him"'
https://www.thedaily...nstead?ref=home
'Moscow Has a Field Day With Trump's Fireworks at Mt. Russia-More
Kremlin-controlled media continue to flatter the American president they sometimes call their "agent."
[...]
Mentioning that the American head of state had previously toyed with the idea he might be featured alongside Washington, Jefferson, Teddy Roosevelt, and Lincoln, Russia's premier state media channel Rossiya-1 aired a graphic of Trump's mug right up there on the mountain beside them.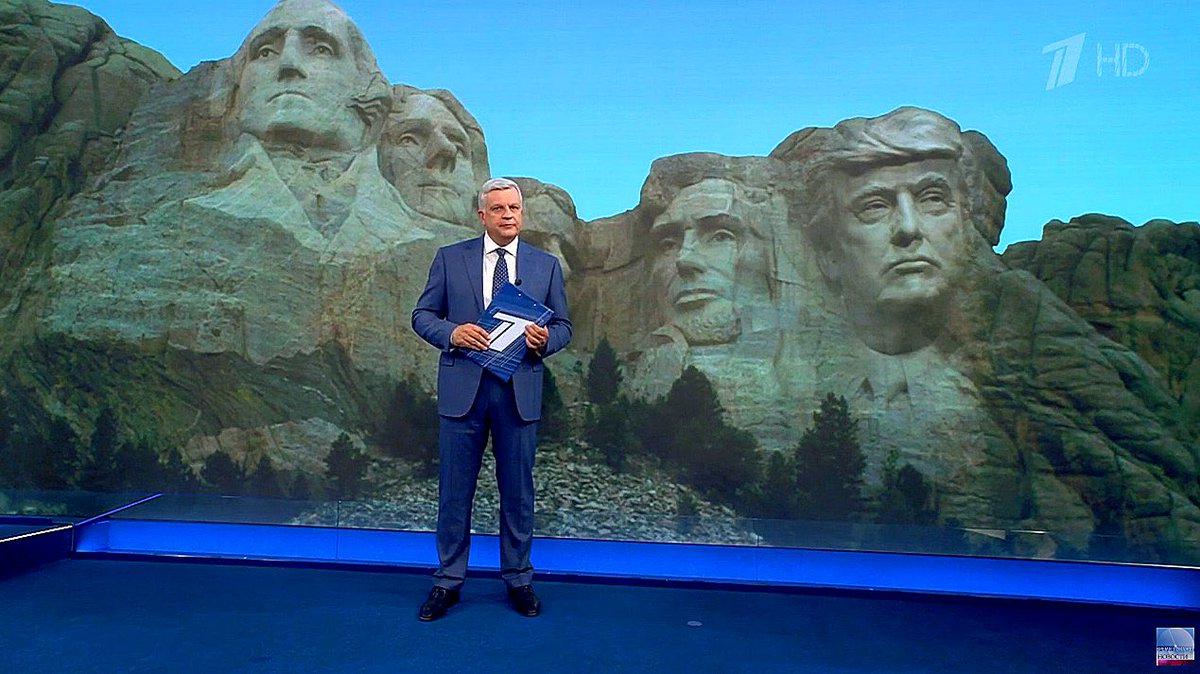 [...] Russian state media have aired so many of Tucker Carlson's comments that the host of Russia's state television program 60 Minutes Evgeny Popov lovingly described Carlson as "practically our co-host."
Likewise, instead of concocting its own divisive propaganda, TASS simply quotes Devin Nunes and Mike Pompeo, both of whom sought to find and punish the leakers who exposed the Kremlin's alleged cash for kills program instead punishing Russia for putting a price on the heads of American soldiers.
'
https://www.thedaily...more?ref=scroll
'Trump Appears To Claim Desert Storm Happened In Vietnam In 4th of July Disaster
Trump said, "In the fields and jungles of Vietnam, they delivered a swift and swiffian, It was swift and it was sweeping like nobody's ever seen happen. A victory in Operation Desert Storm, a lot of you were involved in that. A lot of you were involved. That was a quick one."'
https://www.politicu...XmsJPYPsXJO8vxQ
This post has been edited by Azath Vitr (D'ivers: 05 July 2020 - 07:58 PM